BLL System
The Freedom of Controlling the World around You
WIRELESS COMMUNICATION TECHNOLOGY
OPEN SOURCE PROTOCOL
EXTREME FLEXIBILITY: 100% CUSTOMISABLE
MESH NETWORK, MORE THAN 500 DEVICES
SMART DIRECT CONTROL BY YOUR SMARTPHONE & TABLET
IDEAL FOR RETAIL, OFFICE AND RESIDENTIAL APPLICATIONS
Blue Light Link is a TCI proprietary system developed to bring  people into the World of IoT as key players of the wireless stage. A low energy mesh network allowing the interaction with lights and other objects around you with no limits, only your imagination.
You can easily download on your smartphone or tablet our free BLL PLUS App for Android or iOS and in just a few steps you will set up and manage your own network. BLL PLUS App is 100% user friendly and 100% customisable, to fulfil all your graphic and functional needs.
BLL SYSTEM allows to range from the most simple light management (turn on & off, dim the light in tensity, change the colour and choose among some pre-set scenarios) to more complex installations where easily adding BLL sensors it is possible to create a heat map of a shop, with huge marketing return, or to gain important energy savings by regulating the light according to people presence or daylight. Moreover, our BLL SYSTEM thanks to the beaconing makes it possible the indoor localization allowing You to track the people inside an area. Through the Cloud You can send advertisements or communications to the smart devices inside Your shop or office.
The management of the system can be done at 3 different levels:
– Single luminaire
– Groups of luminaires
– Network as a whole
All the information can be collected and managed in the Cloud.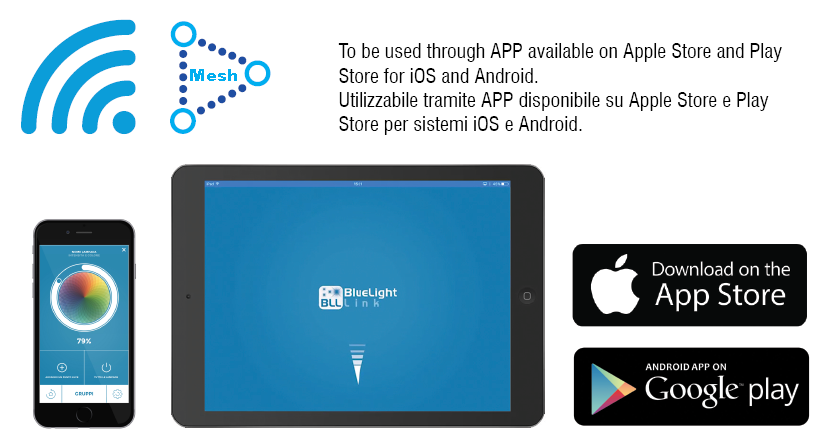 PLUS